Today's interview is with Angela Desideri, a certified Speech-Language Pathologist and AAC specialist and also the developer of the SpeechTree, the first and only AAC app that combines a Complete AAC Communication System with an Interactive Learning Program. You can find out more about SpeechTree via the website , by reading our review or by following on Facebook and Twitter. Angela also provides assistive technology, training, and development services through GACI.
Hi Angela! Thank you for completing our interview. Please tell us a little about yourself.
I am a passionate Speech Language Pathologist (SLP) and American Speech- Language-Hearing Association (ASHA) continuing education provider. I specialize in Augmentative and Alternative Communication (AAC) and Autism Spectrum Disorders (ASD).
I have presented on the topic of "Using the iPad as Assistive Technology" at numerous professional symposiums throughout the United States, Europe, and Asia.
I sincerely believe that I have the best job in the world to provide speech and language therapy to such unique, talented, and inspiring individuals everyday!
I am married with 3 beautiful daughters and live in San Diego.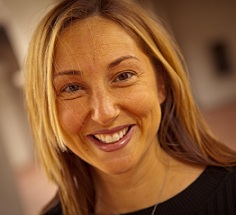 How did the idea for your app come about?
As an AAC specialist, I was asked this question frequently by parents, teachers, and therapists. Many people were purchasing iPads and AAC apps, but needed guidance to begin the teaching process.
For many beginning communicators at early stages in their development, AAC can be a very challenging process to learn. Many have unique learning needs that require lots of practice, encouragement, support, and instruction.
That is how I realized the great potential to create an evidence-based app that could simplify this process and allow parents/educators to actively participate and monitor progress and areas that require further growth.
And how long was the process from the original idea to the release of the app?
Wow.. It was definitely longer than expected. This process took more than 2 years and thousands of hours. Although this was quite a lengthy process, it was all worth it because we have made many important changes which enhanced SpeechTree.
As an example, we were able to integrate a comprehensive data collection system and the highest quality pictures and symbols in the application. You will notice the attention to detail with each of the 5,000+ photos and illustrations.
Did you hire a developer or do it yourself?
We hired a programmer. I love being an SLP and programming is a whole different world.
What has been the hardest obstacle you have had to overcome in the development process?
The hardest obstacle was making the programmer understand how (as a therapist), I wanted the application to take shape. The trial and error process was definitely a long journey. We had to ensure that we can deliver a quality application for the benefit of those that will be taught communication skills. I had to make sure my ideas were interpreted correctly in the application so I get the results that I wanted when it is used on children diagnosed with ASD.
For example, I have worked with AAC users for over 14+ years and that interaction allowed me to understand their needs and specific challenges to communicate. That is the easy part for me. The difficult part is explaining these challenges to programmers and translating your creative ideas into practical solutions.
Have you had much support during the development process (from family, peers, Apple Inc.)?
Yes I have! I am very lucky to have my family behind me. Not only that, I had the opportunity to work with so many fantastic therapists who provided independent feedback during the beta testing process of SpeechTree.
I also want to give credit to the families who gave me permission to video our therapy sessions with their children. The video was invaluable to see and observe the child's reactions and impressions. It allowed us to determine what was and was not working.
What are your plans for the future? Will you be developing any more apps?
I am currently involved in a collaborative research study that is using SpeechTree and other IOS applications. This will definitely pave way for more improvements in the application and systems to help those with ASD.
Right now, I really want to focus on the training and implementation aspect of the apps.
While these apps have provided opportunities that were never before possible, however they are NOT magical tools. Each child has different strengths and needs and it is important that these are taken into consideration when the app is used for educational purposes. Additionally, it is important to work on applying the skills learned from the apps into functional settings
My passion is to teach parents evidence-based strategies to use apps in the home environment. I am currently advising several projects to do this. You can find out more about these upcoming trainings and free tips on our SpeechTree Facebook page and our GACI Facebook page.
What sort of feedback has your app been receiving so far?
Even though SpeechTree was only recently released, the initial feedback has been great! The comments from our giveaway from the iMums say it best.
Also, it makes all the hard work worth it when I hear stories from parents about how SpeechTree is making a real and meaningful difference in their children's progress!
And finally, what advice would you give to anyone considering creating their own app?
As mentioned, the process to go from idea to app takes a LOT of time and commitment. That being said, I encourage the creativity of developers despite the long development journey ahead. While it takes a lot of work, it is improving the lives of these individuals in ways never before possible. That in itself is a great reward for all the efforts.
The Australian iMum Amanda is a married mother of three young boys from North Queensland and has a background in Business Administration and Information Technology. An Apple enthusiast since 2005, Amanda was donned the nickname 'The iMum' due to her growing addiction to their products and her many, many apps. She now owns an iPod Nano, iPhone 3GS, iPhone 4, iPad 2, iPad 3, a 27" iMac and two Apple TV's.
You can email me direct at amanda(at)theimums.com