Review by Alison
What we love…
Ability to adjust the case to a variety of viewing positions; Ability to connect via BlueTooth and the fact that it didn't look like an iPad case
What we'd love to see…
I wish the keys felt more like keys – I found myself losing the "home row" or typing too quickly and missing an keystroke.
Summary
As a lightweight travel case, it has been very helpful. It has been useful when I do not have a laptop at hand, allowing me to type faster than I can on the iPad touchscreen.
Our Rating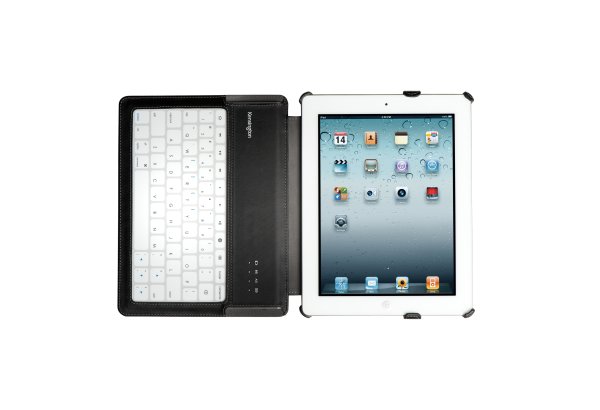 Keylite™ Ultra Slim Keyboard Folio by Kensington is a portable keyboard for your iPad allowing you to touch type with a keyboard versus using the iPad screen.  The Keylite™ pairs with your iPad 2 via Bluetooth technology and allows you to "snap" your iPad into the upper part of the case which can be adjusted for ease of typing.  The keyboard provides liquid and dust proof keys making your iPad easier to travel with versus a conventional laptop.  The case offers a two-position stand as well as a wake/sleep cover.  The case is comprised of a material similar to leather with a thin plastic keyboard embedded on one side of the case.
I really liked the convenience of the keyboard – it was great to use rather than toting my laptop all the time and the various positions made it easy to type on, view movies on or interact with an app all with a keyboard for ease of use.  I found the Keylite™ lasted quite a long time in between charges even with regular use and was able to plug it into a USB port for charging, which meant it was fairly easy to charge items no matter where I was.  It was nice for taking quick notes on and the case when folded up looked like a padfolio versus an iPad case which I thought was another nice feature.
I wish the keys had "ridges" to them to make it easier to locate them.  I found myself losing the "home" row on this keyboard because my fingers did not feel "centered".  I also found that several times while typing quickly, that the keystrokes were not always picked up, I'm not sure why this was or if I simply got ahead of what the iPad could handle.  I typically only used the case on a hard flat surface versus my lap because I found it did not stand as well unless it was well supported.    There were also times where I would think that I had "snapped" the iPad in only to find that one of the corners was not firmly inside.  I also wish the "manual" with this case had a little bit more information rather than just a few drawings as I initially had trouble syncing the keyboard, but figured it out on my own.
In terms of drop protection, this case seems to offer similar protection to the traditional Apple sleep/wake case and is not meant for young children unless they are very careful with the iPad and are supervised.
This case is not really meant to replace a laptop full-time for die-hard keyboarders, but rather for those who need to type on it occasionally.  As a lightweight travel case it has been very helpful. It has been useful when I do not have a laptop at hand, allowing me to type faster than I can on the iPad touchscreen.
The RRP of this case is $119.99, you can check out this and the full range of KeyFolio cases on Kensington's website.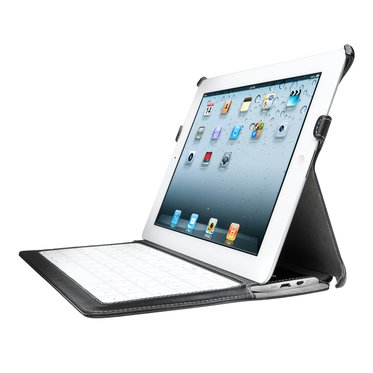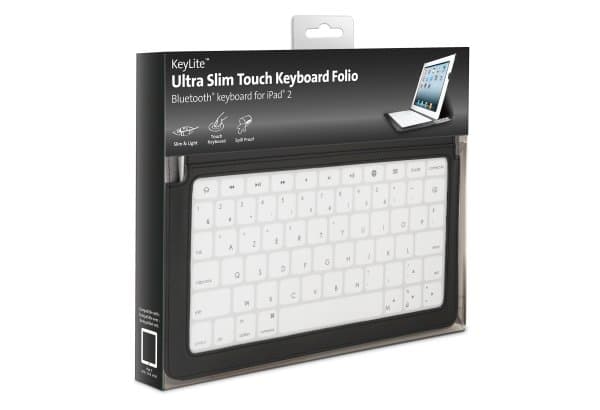 Giveaway
If you would like to win a Keylite™ Ultra Slim Keyboard Folio , please enter via the widget below. Winners will be emailed and must contact The iMums within 48 hours to claim their prize. This giveaway is open in  the United States only.  A valid United States postal address is required to claim the prize. Please ensure you have read and understand our Terms & Conditions. Good luck!
Alison
Alison, the American iMum is from Illinois. She lives there with her son and husband. In their spare time, they enjoy playing outside, enjoying nature and of course testing apps on their devices. They have a variety of devices including an iPad, iPhone, and an iPod.
You can email me direct at alison(at)theimums.com