What we love…
the artwork shows amazing detail and vibrancy along with hidden interactivity on pages
What we'd love to see…
It would be nice if in the rooms page if there was a basket to collect everything into as well as showing it with the mouse .
Summary
Gorgeous app that really brings to life the Nutcracker as I remember it from my childhood.
Our Rating
Reviewed by Alison

The Nutcracker and The Mystery of The Disappearing Cheese by Quasar Alliance, Inc and AppyPup is a delightful Christmas themed adventure.  The app features a cartoon, interactive stories, classical stories and a tour inside Stahlbaum's mansion where all the magic happens.  The app features six unique rooms for your child to explore including a room with the nutcracker, a room for baking, and the children's bedrooms.  In addition, there is an integrated storybook where children can explore the interactive elements of the story and seven mini games.  The app is set to a rendering of Tchaikovsky's enchanted ballet which is delightful.  Read our interview with Marina Litinsky to learn more about the history of Quasar Alliance as well as our review of their other app, Goodnight ABC.

My son loved the various rooms as well as the interactivity of the characters.  He enjoyed finding the hidden items in the rooms such as the roll of cheese, missing diary and the little girl's shoe.  We also enjoyed changing clothes and playing with the army and trains.  The illustrations and musical accompaniment in this app  are top notch and the app is vibrant and colorful with lots of hidden interactions that you don't always appreciate.  My son and I have played with the app several times and are still finding new things on the various pages.  The navigation for the app is simple, and I really liked the fact you could skip the intro so you didn't have to watch it each time unless you wanted to.  In terms of the mini-games, my son enjoyed the letter tracing, the ornament matching as well as the counting game in the conquest.  Other mini games include: baking and decorating a cake, adding logs to the fireplace, driving a train as well as decorating a Christmas tree.  Each room was beautifully decorated and had lots of hidden surprises as you collected the various items for the Mouse.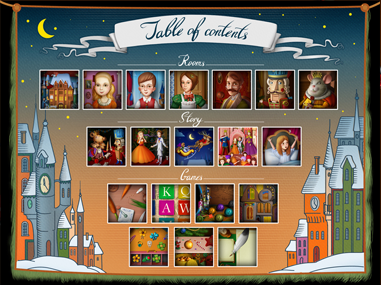 It would be nice if in the rooms page if there was a basket to collect everything into as well as showing it with the mouse .   It might be helpful to provide writing of the story as it is spoken with word highlighting in a future edition.  Some of the mini games might be a bit hard for younger children and it would be nice to have two settings, one for younger children and one for older children.
This app brings to life my memories of attending this play as a child – and it is currently on sale for 50% off.  The artwork and music alone make this app nicely suited for adults and children alike.  I think this would be a great app for parents or grandparents to enjoy with their children.
The Nutcracker Story

by Quasar Alliance, Inc
Category: Education, Entertainment
Requirements: Compatible with iPad2Wifi-iPad2Wifi, iPad23G-iPad23G, iPadThirdGen-iPadThirdGen, iPadThirdGen4G-iPadThirdGen4G, iPadFourthGen-iPadFourthGen, iPadFourthGen4G-iPadFourthGen4G, iPadMini-iPadMini, iPadMini4G-iPadMini4G, iPadAir-iPadAir, iPadAirCellular-iPadAirCellular, iPadMiniRetina-iPadMiniRetina, iPadMiniRetinaCellular-iPadMiniRetinaCellular, iPadAir2-iPadAir2, iPadAir2Cellular-iPadAir2Cellular, iPadMini3-iPadMini3, iPadMini3Cellular-iPadMini3Cellular, iPadMini4-iPadMini4, iPadMini4Cellular-iPadMini4Cellular, iPadPro-iPadPro, iPadProCellular-iPadProCellular, iPadPro97-iPadPro97, iPadPro97Cellular-iPadPro97Cellular, iPad611-iPad611, iPad612-iPad612, iPad71-iPad71, iPad72-iPad72, iPad73-iPad73, iPad74-iPad74, iPad75-iPad75, iPad76-iPad76
Size: 581.19 MB

$1.99USD
Screenshots for iPad
(Click to enlarge)
NOTE: A fee was received to expedite this review to the top of our waiting list but this payment has not influenced the objectivity of the review and all opinions have been offered honestly.
Giveaway
If you would like to win a copy of this app for iOS, please enter via the widget below. Winners will be emailed and must contact The iMums within 48 hours to claim their prize. This giveaway is open to everyone, worldwide, and an iTunes account is required to claim the prize. Please ensure you have read and understand our Terms & Conditions. Good luck!
Alison, the American iMum is from Massachusetts. She lives there with her two sons and husband. In their spare time, they enjoy playing outside, enjoying nature and of course testing apps and fantastic products on their devices. My older son loves technology and loves testing out the "latest and newest" apps and tech. I love sharing information about apps and products with others to help them make decisions without feeling overwhelmed with all of the choices.