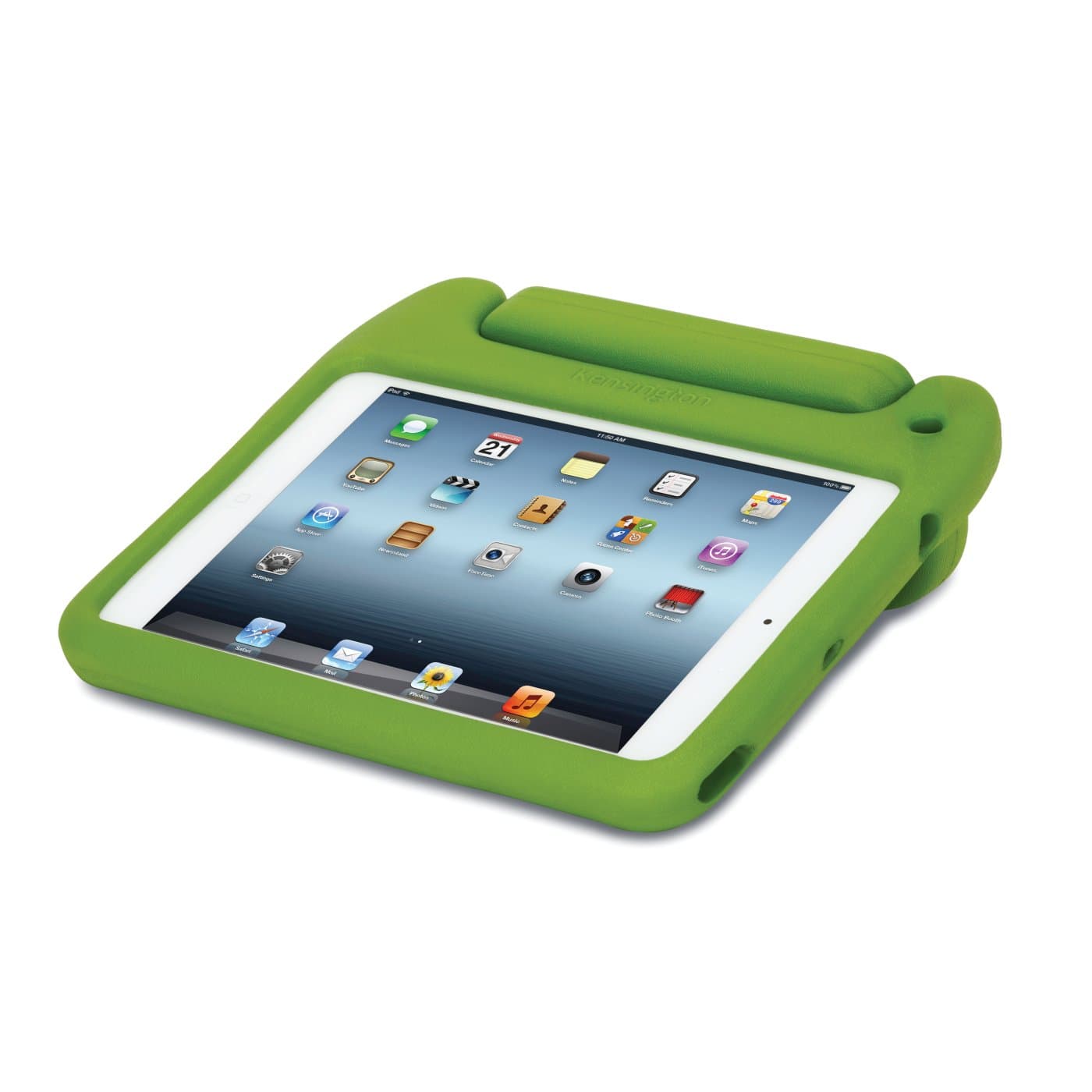 What we love…
Durable, child friendly case that survives falls and drops and is easy on the budget
What we'd love to see…
integrated screen protector, easier way to charge the iPad as threading the lightening cable can be a bit tricky
Summary
Durable, child friendly case for the iPad, iPad Mini which doubles as a typing stand and is easily cleaned,  Budget friendly.
Our Rating
Looking for a safe case for the iPad Mini that's child friendly, budget friendly and survives drops and falls?  The Kensington SafeGrip for iPad Mini provides kid proof protection complete with a handle that doubles as a stand and helps to prevent drops.  The case includes a built in holder for your stylus as well as a place to label your iPad Mini to ensure that device doesn't accidentally go home with the wrong child.
One of my favorite things about this case is how simple it was to install on my iPad Mini as a parent – my son on the other hand couldn't figure out how to remove the device which was a good thing since I didn't want him accidentally removing it.  I simply popped the iPad Mini in and within a few minutes the case was installed, I had it personalized and we were ready to use it.  The case and my iPad Mini survived more than a few drops and falls – mostly accidental with no nicks, dings or dreaded screen cracks.  When it did fall – the handle provided a softer "cushion" as it landed ensuring that the iPad did not land screen side down which provided additional protection.  I also loved the fun kid friendly colors and how easy it was to use.  The case features cut outs which allow access to the sound buttons, home button, camera and more without anything to remove or accidentally lose, which is a huge plus when working with elementary school aged children.  Using the handle as a stand made it perfect for working on apps especially when you had a child seated
In terms of improvements, I would like to see some sort of an integrated screen protector especially as this case will likely be used by younger kids who can easily spread germs, accidentally get water on your device or accidentally drop it.    The case itself is easy to clean and easily wiped down, and with a screen protector it would provide the additional layer of protection.  I did find it difficult at times to charge the iPad Mini while in the case as it was a bit difficult to thread the lightening cord adapter through the case via the slot.  This was remedied by removing the case, however, that's not something you want to have to do on a regular basis.
Durable, child friendly case available for the iPad, iPad Mini and iPad Air which is easily cleaned and provides integrated storage for a stylus.  No pieces to lose, easily cleaned and provides great protection against drops.
NOTE: A product was supplied by the company for review purposes, no other form of compensation was received, all opinions stated in the review are those of the author and have been offered honestly.
Features
Best For: Tablets
Color Group: Green
Features: Carry Handle
My Device: iPad mini
Protection: Back Protection, Drop Protection, Screen Protection
Screen Size: 7.9″
Priced at $39.99 and available from a number of retailers including Kensington, Amazon and more!