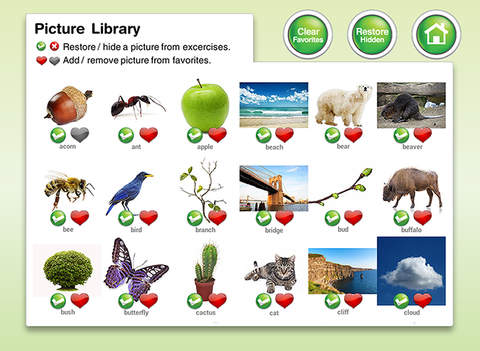 Talk Around It is an app designed to help individuals with finding words or naming an object using both expressive and receptive language skills. I liked that the app was set up and ready to use the first time I launched it with my son and used a variety of outdoor objects to help him articulate what he saw. It would be great in speech therapy settings as well.
Talk Around It is used in clinical and home settings to treat a range of speech disorders including anomia and aphasia. Using Talk Around It helps with
• Word finding or naming skills
• Cued Lexical Retrieval
• Receptive and expressive language
• Self-cuing to help word finding
• Circumlocution skills
Our users like the accessibility of the app and the simplicity of the interface. Just download the app and begin your naming practice using the hi-res photographic images, audio and written cues.



Talk Around It USA Nature by Neuro Hero Limited

Price: $17.99 USD

Talk Around It USA helps people with word finding difficulties to practice Naming Techniques and improve Word Retrieval. Developed by Speech and Language Pathologists, Talk Around It USA uses evidence.
Giveaway
If you would like to win a promo code for this app, please enter via the widget below. Winners will be emailed and must contact The iMums within 48 hours to claim their prize. This giveaway is open to everyone, worldwide, and an iTunes account is required to claim the prize. Please ensure you have read and understand our Terms & Conditions. Good luck!
Alison, the American iMum is from Massachusetts. She lives there with her two sons and husband. In their spare time, they enjoy playing outside, enjoying nature and of course testing apps and fantastic products on their devices. My older son loves technology and loves testing out the "latest and newest" apps and tech. I love sharing information about apps and products with others to help them make decisions without feeling overwhelmed with all of the choices.